Scottsdale Tummy Tuck Overview
Our Scottsdale tummy tuck, or abdominoplasty, is a surgical procedure designed to remove excess skin, tighten abdominal muscles, and eliminate or improve the appearance of stretch marks in this area. Scottsdale, AZ board-certified plastic surgeon, Dr. Carlos Mata, performs the no drain tummy tuck or mini-tummy tuck for men and women who are at a stable weight. The abdominoplasty is appropriate when diet and exercise will not work to remove the weak stomach muscles, extra skin, and fatty tissues. Our patients, who have lost a tremendous amount of weight with bariatric surgery or have lost 100+ pounds with diet and exercise alone, are both excellent candidates for this procedure. Scottsdale Tummy Tuck specialist, Dr. Carlos Mata, a.k.a. Dr. Scottsdale® may also recommend at your consultation for you to consider combining the surgery with liposuction to complement your ultimate outcome.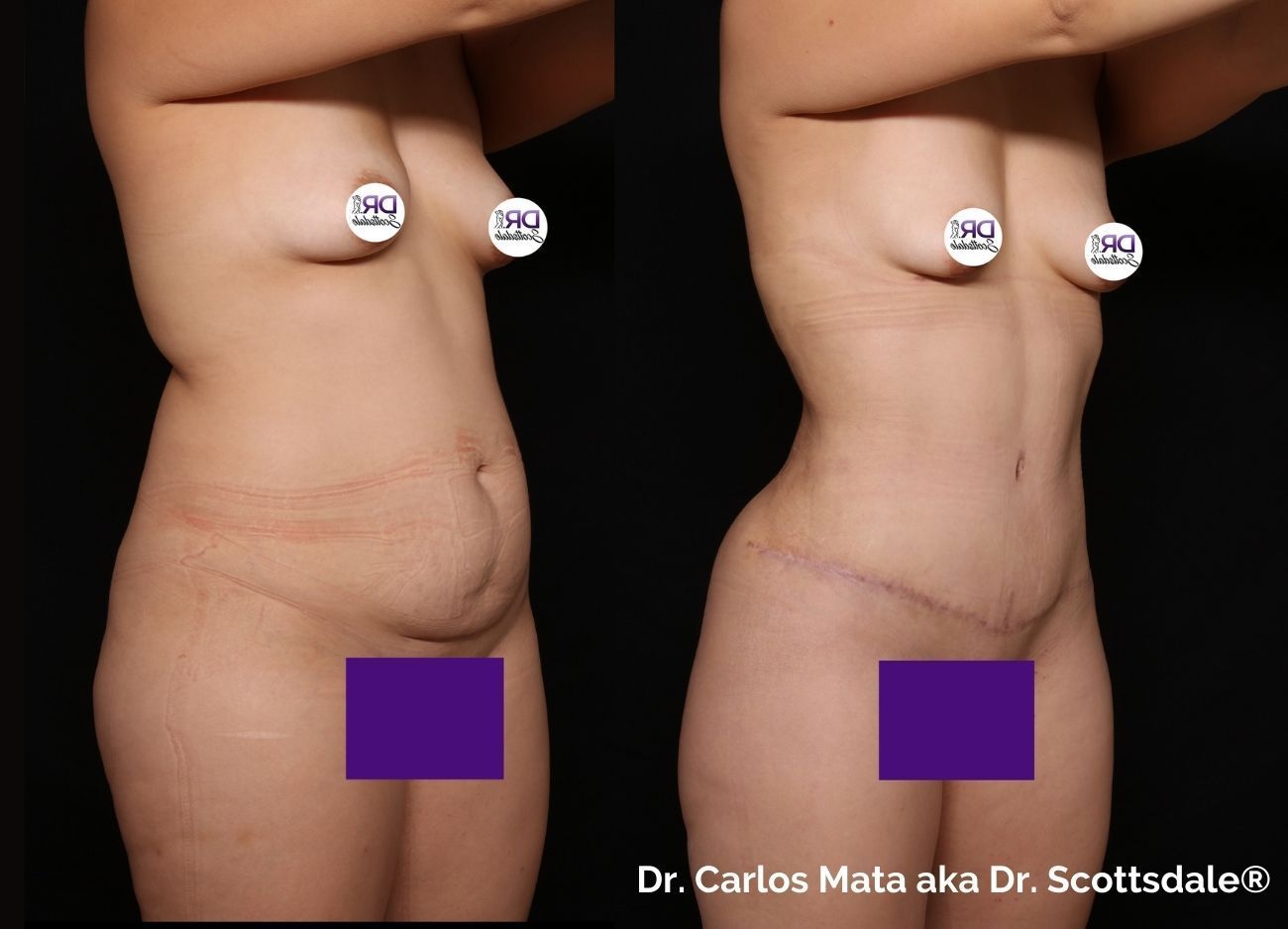 Full Tummy Tuck
WHAT IS A FULL TUMMY TUCK? In patients who undergo a full tummy tuck, the incision is made from hip to hip just over the pubic area. This results in a scar line that is horizontal and may be hidden when wearing undergarments. This technique allows the surgeon access to a large portion of the abdomen while repositioning the belly button so that its placement appears natural. The surgery is performed in our Scottsdale, AZ office under deep sedation (breathing on your own).
WHAT IS THE NO DRAIN TUMMY TUCK TECHNIQUE? AND WHY DOES DR. SCOTTSDALE® USE IT?
The No Drain Tummy Tuck technique is a special tummy tuck closing technique. During your tummy tuck, Dr. Scottsdale® will use special dissolvable sutures to close the space between the abdominal wall and other tissues (muscle covering). The goal is to prevent fluid buildup by eliminating the space where fluid accumulates. No space means fluids cannot build up. The no-drain tummy tuck technique allows the patient to recover faster, reduces the risks of complications like a seroma, and gives the patient better results.
DO YOU FIX DIASTASIS RECTI (ABDOMINAL MUSCLE SEPARATION) DURING A TUMMY TUCK?
Diastasis recti is most often caused by pregnancy or major weight loss/gain. Diastasis recti is an abdominal muscle separation that means your belly sticks out because your abdominal muscles have widened. A no-drain tummy tuck is one of the only ways to fix it, it entails using sutures to tighten the muscle back together. Dr. Scottsdale® will always correct your muscle separation during his full no drain tummy tuck.
The full tummy tuck is commonly performed on women with significant skin folds/laxity or diastasis recti after pregnancy. But, it can be performed on men and women that have skin laxity on their abdomen.
After surgery, pain medications are provided and a compression garment is worn. The patient will need to rest up to 48 hours. From then, it is recommended that patients make a concerted effort to move around to help blood circulation and reduce the risks of blood clot complications. Recovery may take up to 2 weeks, and we recommend waiting 6 weeks before exercising.
Mini Tummy Tuck
WHAT IS A MINI TUMMY TUCK? An alternative to the traditional technique is the mini tummy tuck, which is also known as a "Brazilian tummy tuck." The incision is smaller than a full tummy tuck and addresses only the lower part of the abdomen. Unlike the full tummy tuck, the belly button is unaffected and the incision is smaller. Liposuction can be used (if needed) to remove excess fat. The mini tummy tuck is performed in our Scottsdale, AZ office.
WHAT IS THE DIFFERENCE BETWEEN A MINI AND A FULL TUMMY TUCK?
The difference is that a mini tummy tuck only addresses the lower abdomen skin laxity and will not fix the diastasis recti (abdominal muscle separation).
Ideally, the patients that undergo this procedure are already in relatively good shape with a healthy skin tone, but still have loose skin on the lower abdomen.
Fleur De Lis Tummy Tuck
WHAT IS A FLEUR DE LIS TUMMY TUCK? The Fleur De Lis Tummy Tuck is a more extensive tummy tuck because two incisions are made. The first one is made like a traditional tummy incision: horizontal from hip bone to hip bone, but the second one is vertical: from the middle of the breast bone to the pubic area. The incision will look like an inverted "T" incision across the torso. This specific tummy tuck removes a significant amount of excess skin from the entire torso. The muscle, diastasis recti, will be fixed during that procedure.
Ideally, the patient is someone that had major weight loss with excess skin all over their torso.
For patients who have already had tummy tuck surgery that hasn't met their expectations, Dr. Scottsdale® performs tummy tuck revision surgery. During your consultation, Dr. Mata will listen to your concerns about your original surgery and create a treatment plan based on your goals. With many years of experience and training, Dr. Mata can help you get the tummy tuck results you want with revision surgery.
Price Estimator
View your very own customized price estimation!
What is the difference between liposuction and a tummy tuck?
Tummy tucks are reserved for patients who have stretched, loose skin in the lower abdomen as a result of pregnancy or obesity. Liposuction, on the other hand, is for those who want to remove excess fat in the abdomen but still have a healthy skin tone. During the initial consultation, we will provide a thorough assessment and determine if liposuction alone is all that is needed, or if a tummy tuck will provide the best results.
Are the muscles (diastasis recti) being repaired during a tummy tuck?
Diastasis recti is the abdominal muscle separation often caused by pregnancy or major weight loss/gain. Basically your belly sticks out because the space between your two abdominal muscles has widened. During a tummy tuck, our providers will fix your muscle by placing an internal corset via two rows of sutures: dissolvable and permanent.
What's the difference between a tummy tuck and a no drain tummy tuck?
During a regular tummy tuck the surgeon will lift the skin, remove the excess skin and close only the incision. This technique leaves a lot of empty spaces making your body compensate by creating fluids, drains are then necessary to prevent fluid collection. In comparison with the no drain tummy tuck technique, the surgeon does exactly the same thing, but will also close the empty spaces by placing sutures. Because there are no empty spaces, the body doesn't compensate with fluids making drains useless. No space = no fluids = no drain needed.
Should I get a tummy tuck before or after having kids? What if I plan to get pregnant in the future?
Ideally, waiting until after being done having kids to undergo a tummy tuck surgery is recommended. Why? Because a tummy tuck surgery corrects issues like diastasis recti, and skin laxity, so having a pregnancy afterward will undo the results. But, because you are the one who makes the decision for you and your body, you can get a tummy tuck before having kids. Special dissolvable sutures will be placed so if you accidentally or willingly get pregnant after a tummy tuck, you don't have to worry as the sutures will break allowing your belly to grow like during a regular pregnancy.
Will there be scars after a tummy tuck?
Unfortunately, scars are unavoidable when it comes to a tummy tuck. Typically, you will have a scar around/in your belly button and on your lower abdomen from one hip to the other. The scar will fade away with time, but will not disappear. We offer different scar treatments to help your scar fade away faster.
Can I combine multiple procedures with my tummy tuck?
Normally, abdominoplasty is performed to improve loose skin and excess fat around the abdomen area. However, sometimes other cosmetic procedures, such as breast augmentation or a breast lift are done to further improve the overall look and feel of the body. When this combination type surgery exists, it is known as a "mommy makeover." It is very popular among women after pregnancy who wish to get their pre-pregnancy body and shape back to normal.